en.insic.com
best viewed: .firefox .full-screen .navigation: cursor left/right+swipe privacy German version
Our legal frame is changing faster
EU AML, GWG, GlüStV, JmStV and its executive rules
Loss of certainty and predictability
Legal frame

legal norms in German jurisdiction under European supervision
youth protection law

media act & media law

AML regultation

data protection act

passport law & usage regulation

gambling act & gambling law
Attempt
Essential features, clean technology and friendly process design
Assisting users smart and effective
insic compliance services and solutions
Reliable identification and 18+ check with focus on EU market Currently active in the EU-Markets: DE, DK, AT, CH, MT, GB Compliance-Software solutions for 18+, Lotto, Sportsbetting and Casino Regulatory advice and support Players protection and responsible gaming concepts Corporate Social Responsibility (EL/CSR) certified
targets

markets and areas of regulation in distance sales / internet mailorder business

lotto, sportsbetting, casino

pyrotechnics, light arms

alcohol

secure email and mobile phone registration

real estate, car dealers

AML obligated business

Human ressource management

Games online/offline

Shared economy, cars & appartements

Fintech industry, insurance
Build better ID processes. In 4 phases.
01. Easy onboarding

- direct field response
- less data input
- zip code check
- bank data pre-check

02. Smart data collection

- data input correction
- get bank details
- get place of birth

03. Flexible identification

- silent data check
- no-media-break possible?
- Schufa + 1-Cent ok?
- pay-in + identification?

04. Retention

- clear online information
- process specific emails
- trigger alternatives - reward activities
be: .careful .smart .reactive .cost-efficient .flexible .open
One interface for all ID service providers
Just make one integration and expect to get all compliant German and international ID-services connected via a single interface.

Smart Retention
Use cases for retention messages adopted to the open ID flow. Send a specific message if a player ist not fully identified and ...
... Schufa Ident failed but GiropayID should be possible

... Schufa Ident OK, but name on bank account not matching

... on Breaking News: Jackpot > 17 Mio or upcoming championchip

... 1-Cent: 16 h after sending, 24 h before timeout, 16 h after timeout with try again message

... 60 h after Shop- oder Postident form download

... a new ID method has been introduced
.endless .situative .unpredictable
Potential with
better technology
Advantage of full featured process in comparison to standard DB address check + DB bank check + 1-Cent PIN transfer and PostIdent as failover procedure.
onboarding4% advantage

identification
10% advantage

retention
4% advantage

overall potential
18% advantage
.non binding .showcase .examplarily
Potential in € monthly
80€

customer life-time-value

1.000

new customers per month

18%

lower give-up rate in ident phase

12.000€

advantage per month incl. identification costs
.non binding .showcase .example for German market
passport based registration
in a few seconds
without a keystroke
Registration with social media is done within a second.
Making a foto with a mobile asks for some interaction - but it is fun to do! The following ID process is done automatically.
ID Workflow Manager

Create and change your ID prozesses
Interactive and reaktive
Your own UX via CSS in our ID Widget
Passport Scanner solution
Integrates online and offline technologies bullet proof hardware "Made in Germany" latest ID technology, affordable attempt world unique solution one-of-a-kind
Combine POS Identification with any online check
Passport Scanner Hardware
Proven devices make operations easy and reliable

Document recognition with options for 1D/2D barcodes, NFC, RFID, MSR, Chip Card, ultraviolet, infrared
Direct scanner backend service integration
make it the smart way instead of restricted local terminal connection process registrations automatically into gaming backend get instant feedback and print via terminal recognize 2.000+ passport formats
.think different .make it the better way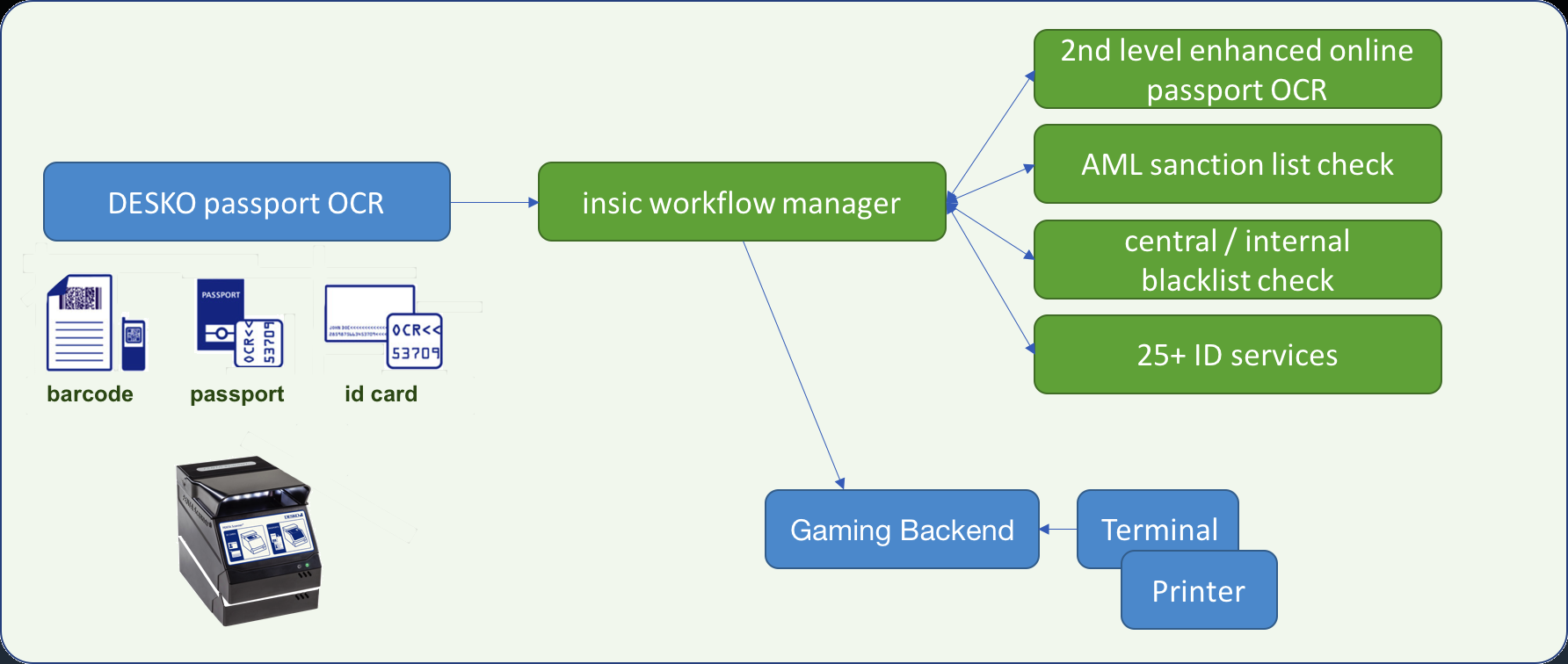 .think different .make it the better way
Scan Process integration. Offline.
01. Scan passport & bestslip

- 2.000+ different ID documents
- read 1D/2D barcodes
- read NFC, RFID, MSR, Chip Card
- read mobile phone barcode
- check validity and consistency
- compliant under strong regulation

02. Data validation

- local consistency check
- online data validation
- PEP & sanction list check
- AML compliant data validation
- central players blacklisting
- 25+ ID services in free workflow

03. Terminal integration

- scanner sends data to gaming backend
- terminal gets data from gaming backend
- terminal cash and printout handling
- price payout after passport scan
be: .careful .smart .reactive .cost-efficient .flexible .open
Core ID service features
Design your own processes for different target groups and customer situations. React on mobile, desktop or shop oriented technologies. Clean process design and essential features.
open and smart process design

no media breakfor immediate 18+

reactive flow for top successs rate

processes by device customer group & use case

absolutely unique and certified
Technology driven
hosted where our partners want

cloud enabledAWS operated

responsive css design

node.js, html5, bitbucket, slack

full size apijson webservice

multilanguage widget technology
about: insic
Company.Facts
founded 2007 privately owned founder managed profitable European approach

20+ EU customers:state Lotteries Sportsbetting companies Casino operators online sales of 18+ products

KJM confirmed in 2008 & 2015 FSM certified in 2016 WLA + EL certified

sustainable, compliant and reliable no identity or address data reuse / trading data protection. without compromise.

technology leader in our segment absolutely unique compliance solution Early adaptor. always.
get all ID methods of relevance via one interface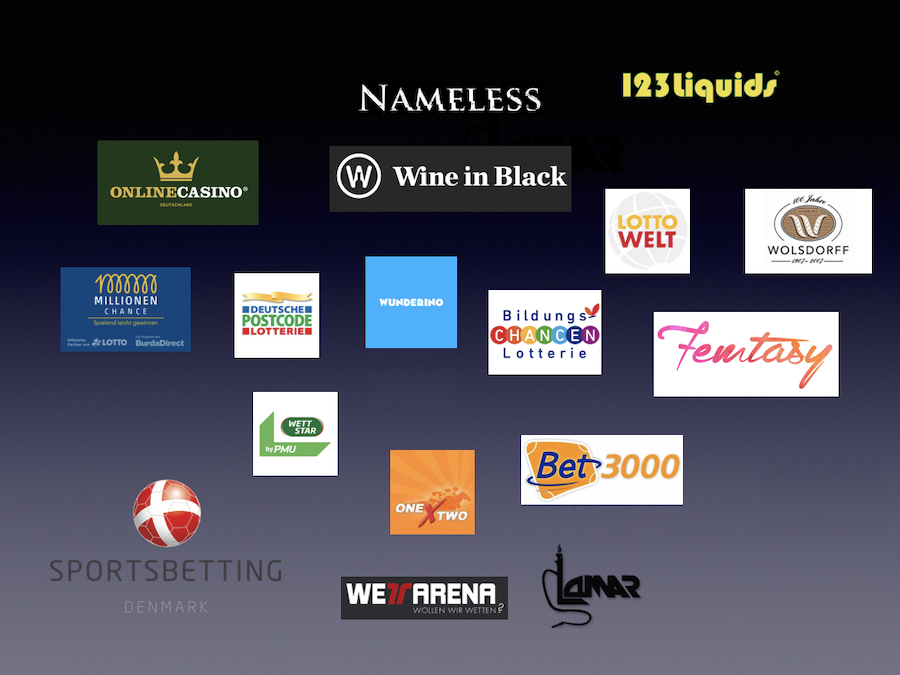 Selected customers in production. Status 09/2019
learn more: contact us
* * *

Thank you!

* * *

.made .with .webslides .thx @jlantunez @pixabay

Disclaimer: All product names, logos, and brands are property of their respective owners. All company, product and service names used in this html presentation are for identification purposes only. Use of these names, logos, and brands does not imply endorsement.